Remote Computer Support
Remote desktop support is a service which can be availed from any part of the world. Only you need to be connected to the internet. Computer users are been provided support whenever they required.
Certified professionals use remote support software to provide desktop support and computer repair solutions to the customers. The team of experts asks for remote PC access to resolve all kind of issues you are facing with your computer. They can keep track of your computer with easily shared control of the mouse and keyboard to provide you with best solutions for you.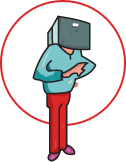 Call AskPCExperts for Remote Computer Support
If you are looking for quality remote computer support, then you should contact us now. Our task force of professionals are skilled to resolve any kind of issues of your system and offer quality services at best prices.